Bound™ Offers an Extra Set of Hands for Gordon, Rams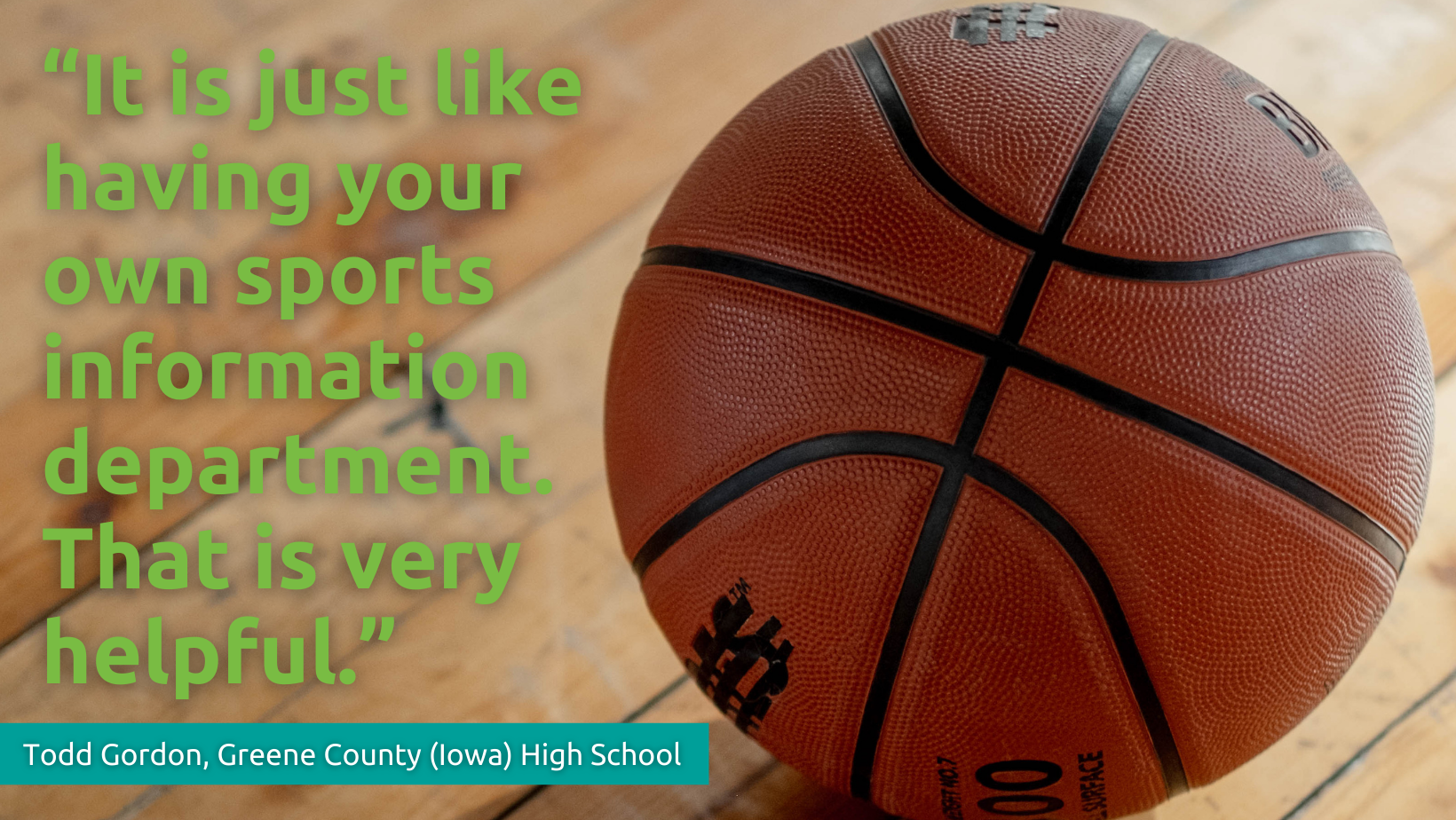 From communicating with athletes, to posting information for community, Bound™ meets the needs of Greene County team
By about any measure, the Greene County School District in the west central Iowa town of Jefferson is small. The district has four schools in kindergarten through 12th grade, a total enrollment of just more than 1,000 students, and about 200 staff members.
What it lacks in size – the Rams compete in Iowa's second-smallest class in most sports – the district makes up for in passion for its athletes. To feed the community's appetite for information about Greene County High School sports teams, Activities Director Todd Gordon, CMAA, has turned to Bound™.
"We started using Bound™ during 2020," says Gordon, who is also the girls' varsity basketball coach. "We have basically adopted it as our activity website. We are on social media, but it offers us another place to share out articles and information about our various programs."
Gordon says having an "extra set of hands" helps him and the activities team do more.
"It is just like having your own sports information department. That is very helpful. Things like the game day previews are valuable and that is something I don't have the time or the staff for. Bound™ does it for us and does it in a way that is easy for fans to use."
Streamlining Gameday Operations
In addition to providing a forum to share pre-game and post-game information with the community, Bound™ has helped the activities team streamline gameday operations, especially in the COVID era. Instead of manually typesetting rosters for games, they can direct fans to the app.
"We were like most other high schools in that we would spend a couple hours preparing and printing 500 programs for a home football game, for example," Gordon says. "Then, after the game, we'd be picking up 250 of them left on the ground. I'm not sure it was the intent of Bound™ to be more environmentally-friendly, but it is."
"And Bound™ came just in time for 2020," Gordon adds. With the COVID pandemic raging, Gordon made the decision to stop providing printed materials to fans in the summer. "It is the nature of the era we are in. It has been great to have a digital option to provide rosters to our fans. They are getting used to it and, so far, it has worked well for us."
During the summer of 2020, one Bound™ feature in particular was helpful for Gordon and the coaches at Greene County. The COVID Screening Tool allowed administrators to ensure athletes were able to continue to compete in as safe an environment as possible.
The tool requires athletes to open the app and answer a series of questions to ascertain whether they are experiencing any symptoms of COVID-19. That information is available to coaches and administrators in near real-time so they can hold any players who may be exhibiting symptoms from attending team activities.
"We've continued to use that tool throughout this year," Gordon says. "It just makes sense to continue using it as a way to keep our athletes safe and healthy."
'A One-Stop-Shop'
Gordon says there has been little to no learning curve for fans of the Rams in using the Bound™ app. He adds that it has been a smooth transition for the activities team and coaches as well. He says he uses it extensively in his role as the head girls' basketball coach.
"We use the Notify tool to communicate with the team, especially when we need to push something out that everyone needs to know. Bound™ has really become a one-stop-shop for us. Being able to push out media, whether it be newspaper or radio, communicate with athletes, do things like the COVID screening, create programs and rosters, all of it is available in one spot."
In his nearly two decades of activities administration, Gordon says Bound™ offers one of the largest technological leaps he has seen.
"I really appreciate how Bound™ helps us to do our jobs better," Gordon says. "It makes us look good and streamlines the public relations and communication side of our job. I look forward to continuing to learn more about how to use the different tools and making this a more central piece of what we do here."