Maximizing Bound's Potential
North Cedar (IA) Athletic Director Brad Doerring has spearheaded an innovative approach that has propelled the school's athletic program to new heights.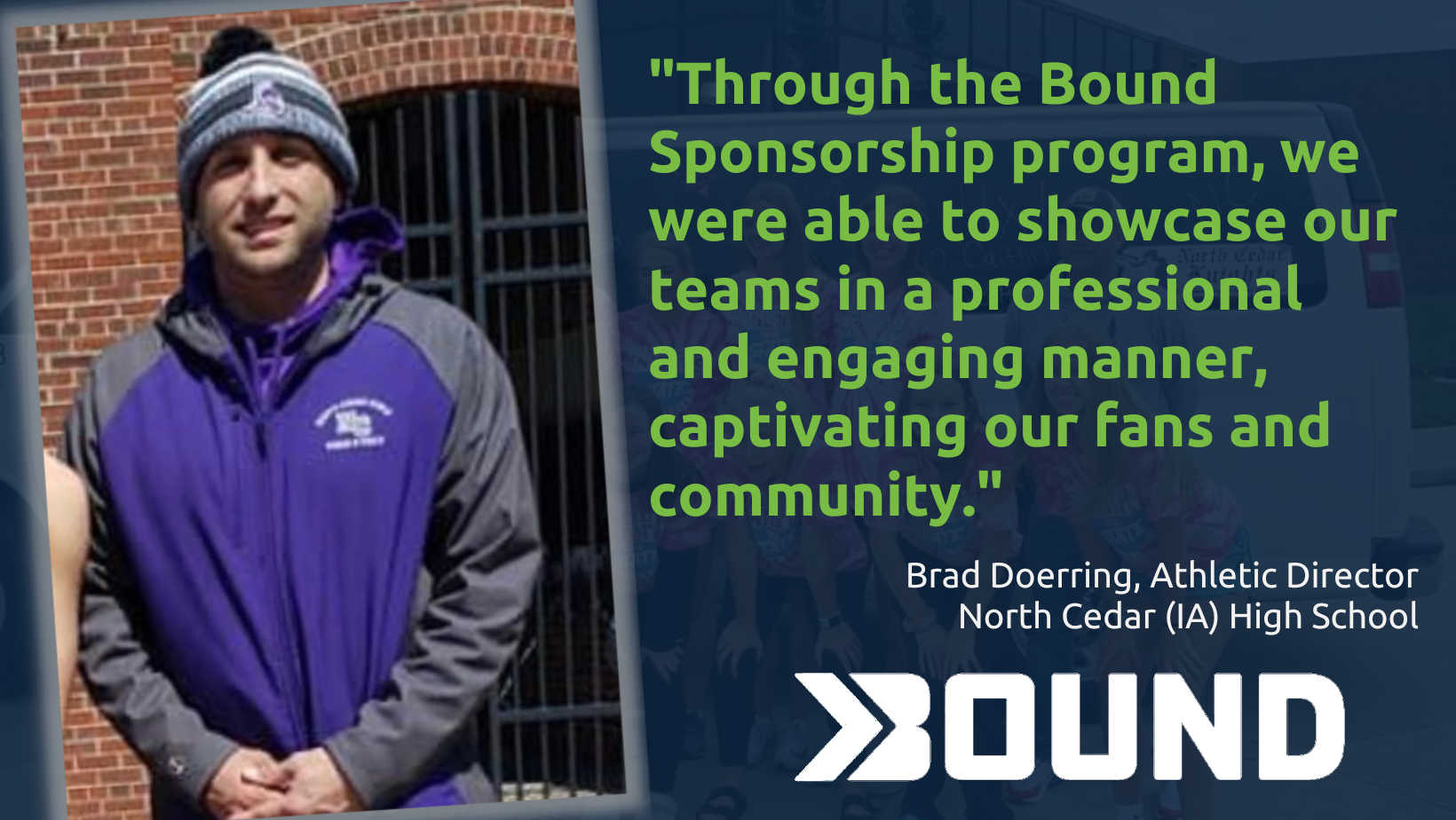 North Cedar Athletic Director Brad Doerring Pioneers Successful Bound Sponsorship Program, Revolutionizing Fundraising Strategies
In the ever-evolving landscape of high school athletics, one individual stands out as a trailblazer in reimagining fundraising strategies and maximizing revenue potential. Brad Doerring, the Athletic Director at North Cedar High School, has spearheaded an innovative approach that has propelled the school's athletic program to new heights. Through his implementation of the Bound Sponsorship program, Doerring has not only achieved remarkable financial success but has also fostered a strong sense of community engagement and support.
The Bound Sponsorship program, designed to streamline the sponsorship process and connect schools with potential sponsors, has been a game-changer for North Cedar High School. Under Doerring's leadership, the program has provided the means for the athletic department to generate significant funds while forging mutually beneficial relationships with local businesses.
Doerring recognized the untapped potential of utilizing digital advertising assets to showcase the school's athletic programs. With the expertise of Bound and the assistance of Scott Garvis, he implemented a comprehensive marketing strategy that included the creation of professional and engaging digital assets. These assets, ranging from captivating social media content, and individual and team stats have effectively captured the attention of sponsors and supporters alike.
Improving Connections
"Our goal was to revolutionize the way we connect with businesses and promote our athletic programs," Doerring explained. "Through the Bound Sponsorship program, we were able to showcase our teams in a professional and engaging manner, captivating our fans and community."
To effectively disseminate the marketing materials, Doerring took a unique approach. He enlisted the help of his coaches and student-athletes, transforming them into a sales force to distribute the sponsorship program to local businesses. This innovative strategy not only eliminated the need for door-to-door selling but also empowered the student-athletes to actively participate in the program's success.
Coach Dean, one of the coaches involved in the initiative, praised the approach, saying, "It was incredible to see our student-athletes take ownership of the program and actively contribute to its success. They were enthusiastic and dedicated, which made a significant impact on our outreach efforts."
The community response to the Bound Sponsorship program has been overwhelmingly positive. Local businesses have recognized the value of aligning their brands with the success and spirit of North Cedar's athletic programs. As a result, the program has secured a remarkable $15,000 Title Sponsorship, providing crucial financial support to the school.
Looking for a Better Way to Raise?
Bound offers innovative tools to help you roll out valuable sponsorships to local businesses and raise funds for all of your school-based programs. Click the button below to schedule a 15-minute meeting with Scott Garvis, CMAA, to learn more!
SCHEDULE A DEMO TODAY
A Win-Win Solution
"The support we have received from the local businesses has been phenomenal," expressed Doerring. "Their investment not only helps fund our athletic programs but also strengthens the bond between the school and the community. It's a win-win situation for everyone involved."
With the success of the Bound Sponsorship program at North Cedar High School, Doerring's strategies and achievements have become a source of inspiration for other schools. Many are now considering adopting similar approaches to enhance their fundraising efforts and elevate their athletic programs.
As high schools across the nation face the challenges of limited budgets and evolving marketing landscapes, Doerring's innovative thinking and collaboration with Bound has offered a new and creative approach for high school athletic leaders. By leveraging digital assets, fostering community engagement, and building strong relationships with sponsors, North Cedar High School has paved the way for a more sustainable and prosperous future.
Doerring's message to fellow Athletic Directors is one of encouragement and possibility. "Embrace the power of the Bound technology and creative marketing strategies," he advised. "By leveraging the Bound tools at our disposal and thinking outside the box, we can transform the landscape of high school athletics and secure a brighter future for our programs."
Visionary Leadership
Thanks to the visionary leadership of Brad Doerring and the implementation of the Bound Sponsorship program, North Cedar High School has not only achieved financial success but has also set a new standard for fundraising in high school athletics. Through their collaboration with Bound, Doerring and his team have demonstrated the tremendous impact that innovative marketing strategies can have on both revenue generation and community engagement.
The success of North Cedar High School serves as a testament to the power of the Bound Sponsorship program. By utilizing professional digital assets, leveraging student-athletes as ambassadors, and fostering meaningful connections with local businesses, the school has transformed its fundraising efforts into a mutually beneficial partnership.
Scott Garvis, CMAA, of the Bound Sponsorship program, commended Doerring's vision and dedication. "Brad Doerring's commitment to creating a sustainable and profitable future for his athletic department is truly inspiring," said Garvis. "His innovative strategies have not only elevated their fundraising efforts but also empowered student-athletes and strengthened community support."
The impact of Doerring's approach extends beyond financial gains. By involving student-athletes in the sponsorship program, North Cedar High School has fostered a sense of ownership and pride among its athletes. They now understand the importance of fundraising and community involvement in supporting their athletic endeavors.
An Eye-Opener
Ethan Thimmes, a student-athlete involved in the program, shared her experience. "Being a part of the Bound Sponsorship program has been eye-opening. It's not just about raising funds; it's about building connections with local businesses and promoting our school. I feel proud to represent North Cedar and contribute to our athletic success."
The success of North Cedar High School has caught the attention of other athletic directors seeking innovative fundraising solutions. By leveraging digital assets and strategic partnerships, schools can unlock untapped revenue potential while creating a sense of unity within their communities.
Bound's commitment to supporting education and athletics has been instrumental in the success of programs like the one at North Cedar High School. Through their cutting-edge technology, expertise, and guidance, they have enabled schools to navigate the complex landscape of modern marketing and fundraising.
As more high schools recognize the power of engaged communities and fan bases, the Bound Sponsorship program offers a comprehensive solution to connect with sponsors, enhance digital presence, and maximize revenue streams. It empowers schools to take control of their online brand and build lasting relationships with local businesses, creating a sustainable future for their athletic programs.
With the groundbreaking achievements of Brad Doerring and North Cedar High School as a shining example, it is clear that innovative strategies and collaborative partnerships can reshape the fundraising landscape in high school athletics. By embracing the opportunities presented by programs like Bound, athletic directors have the potential to revolutionize their fundraising efforts, increase community support, and propel their programs to new levels of success.
The story of North Cedar High School serves as a reminder that with the right vision, determination, and support, any school can achieve remarkable outcomes and create a positive impact within their community. It is an inspiration for athletic directors nationwide to explore new avenues and embrace the boundless possibilities that lie ahead.
---

About Scott Garvis, CMAA, Bound AD in Residence
Scott Garvis has been a leader and innovator in intercollegiate and interscholastic athletics development and fundraising for more than 25 years – as an athletics director, coach, association board member, adviser and editorial contributor.
Scott has a record of excellence as Athletics Director, Director of Activities and Assistant Principal, having led the athletics departments at six high schools or school districts in three states.  He has achieved unparalleled success at all levels of high school athletics: large public school districts, a small public high school, a private school, and with state and national athletics administrator associations.