Bound™ Exclusive: The DNA of an AD (Introduction)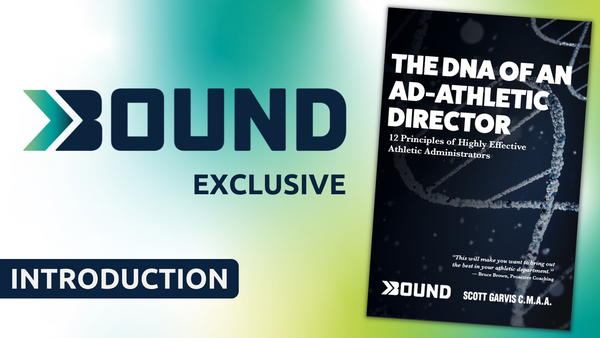 In the coming months, we are excited to roll out the newest book from Bound™ Athletic Director in Residence Scott Garvis, CMAA. The book steps through the 12 principles of highly effective athletics administrators, offering tips and tools to help even the most seasoned AD continue to grow and thrive. In this post, we share the Foreword and Introduction.
The DNA of and AD-Athletic Director
12 Principles of a Highly Effective Athletic Administrator
By Scott Garvis, CMAA, Bound Athletic Director in Residence
Special Foreword
"Whether you are in your first year or your 25th year, being an Athletic Director is a difficult job. Good Athletic Directors like the best coaches are constantly trying to improve their skills. Scott Garvis' new book is filled with wisdom and application based concepts from his years serving coaches and athletes. Put this book in your professional library to shorten your learning curve, inspire others and to add to your leadership legacy." -Bruce Brown, Proactive Coaching
Foreword
Serving three different school districts as an athletic and activities administrator has been nothing short of amazing over the course of the past 15 years.  The relationships I have built with students, coaches, directors, administration and parents have filled many buckets.  The relationships I have formed with other Iowa Athletic Directors and Athletic Directors nationwide through the NIAAA has been life changing, defined my why and has given depth to who I am as a person and leader.  Our work experiences are very similar regardless of the size of schools we serve or the communities we live in.
As the 2nd Vice President of the Iowa High School Athletic Directors Association I had the privilege to develop the theme for our Iowa Athletic Directors Conference. My desire to celebrate the personality traits and qualities that make up an athletic director drove me to the convention theme of The DNA of an Iowa Athletic Director.
The DNA of an athletic administrator is so unique.  Many people "think" they can perform the job that we do, few could actually execute our job.  I shared my vision and theme for the convention with Scott, who I have had the opportunity to work with for several years.  His response was, "That's awesome, what do you think of this idea?" His idea has led to the development of this booklet that shares the leadership qualities that make up an athletic administrator.
Some would say Scott is a marketing expert; I would simply say he is an exemplary story teller!  A national leader and consultant in the field of Athletic Administration, Scott has authored many articles, presented at state and national conferences, and has been the host and guest of several podcast and webinars specific to athletic administration.  His new book, "Athletic Fundraising and Development", will be a great tool to add to your toolbox.
I am honored to write this foreword for Scott.  His friendship over the years has been as important to me as the information that follows will be to you.  Do self-reflection as you read this material.  You will find that you too possess the DNA that exemplifies an athletic administrator.  If there are areas that need work, identify those areas and put together strategies that will allow you to close holes in your game.
Keep Rising! Brent Buttjer, Director of Activities, Dallas Center - Grimes
Introduction
"The price of greatness is responsibility." - Winston Churchill
What is it that makes athletic administrators special, almost super human? Is it a genetic mutation? Were ADs bitten by radioactive spiders? Are they visitors from another planet or is it much more complex?  Is it truly a part of the athletic administrator's DNA? In many ways our athletic administrators are superheroes even if it's not in the DNA. Athletics directors possess the tools to do the extraordinary.
5 characteristics of the Super Human DNA of an the AD
ADs have a Superhero Mindset - Being a Superhero is a Mindset! Instead of allowing the daily grind to drag us down, athletic administrators use their time as an opportunity to grow in technology, strategies, fundraising, innovation and creativity to provide our students with positive experiences. We have had to Adapt, Adjust, & Reflect. ADs become heroes through adversity!
ADs are Servant Leaders! During the pandemic ADs have had to take initiative. ADs have had to have confidence and competence in dealing with issues never before even imagined. The pandemic has taught us if we believe we can accomplish anything! Belief is powerful! Tell someone you believe in them and watch them soar!
ADs have Secret Powers! Athletics administrators have had to find their secret powers during their career. ADs have had to show creativity, analyze and strategize; Plan, Take Action, Study, Act like a superhero even though the weight of the world has been on our shoulders! The burden at times is daunting but giving our student-athletes the opportunity to participate in education-based athletics is nothing short of heroic!
ADs have a Strategy! ADs Take action. ADs act, they take the time to review the situation, and they create a plan that will allow them to defeat the foe. Then, they execute their heroic stand over the evil forces.
ADs  are courageous! All ADs display courage. Although we have fear, ADs forge through the fear and do what needs to be done for our students. We Rise Above our fear and anxiety. Through the struggles we have had to overcome our fears and obstacles. Like Underdog exclaims!! "There's no need to fear, Underdog is here!"
Once Athletics administrators have chosen the heroic path, they forge on. We always stay true to our purpose, we remember our why, despite failures and run-ins with our evil arch nemesis. ADs persevere and fight the forces of evil to the bitter end!
Before we begin to explore the complicated science behind the DNA of an AD, let's make sure we're all on the same page regarding what an athletics leader actually is. There are a thousand definitions of leadership, and we want to ensure that we're all speaking the same AD language.
Generally speaking, a leader is someone who motivates others to act toward achieving a common goal. A highly effective athletic director is able to rally their community around a cause and move them to take action toward achieving a common goal.
A great leader inspires people to do something bigger than themselves. To work together to accomplish great feats. To pool their strengths and resources to achieve great things. A great leader helps team members become the absolute best version of themselves.
Winston Churchill, in inspiring the people of England to keep fighting in WWII, is a great example of leadership. Thanks to his inspirational leadership, the people of England made great sacrifices in their fight against the evil Nazi regime.
A leader is different from a manager. A manager gathers resources and deploys them in the most effective manner. Yes, managers bring people together, but they don't inspire them to take bold action.
Managers are about efficiency while athletic leaders are about vision.
What traits and talents characterize a great athletic leader?
7 High-Level Characteristics
Vision. Effective athletic leaders have a clear vision of where they want to go and how they are  going to get there. They understand where they currently are and are clear on what it's going to take for them to get to where they want to be. The athletic director must be able to communicate this vision clearly to their team.
Motivation. Effective athletic directors are highly skilled at motivating people. They know what makes others tick and are able to tap into . Through their words and actions, they are able to motivate people to do things they maybe wouldn't do otherwise.
Service. The best athletic leaders are those who are servant leaders. They seek to serve their coaches, students, and school community. They support their coaches and students in any way they can rather than constantly focusing on their own goals. Athletic directors serve a cause, greater than themselves.
Empathy. Athletic Leaders must be able to place themselves in the shoes of others. If they want to create consensus among their teams, they must be able to understand the concerns of others and effectively respond to those concerns.
Creativity. Highly effective athletic directors are creative when it comes to achieving their outcomes. They use their imaginations to look beyond what is directly in front of them to see what's truly possible. They're able to see how they can effectively leverage the skills of their followers for the maximum good.
Demanding. The best athletic directors demand the best from their coaches and teams. They don't settle for mediocre results or half-hearted efforts. Rather, they set an example of passionate work for their team, and they expect their team to follow their example.
Management. Athletic Directors must be able to manage those who follow them. They must be able to strategically guide their teams through complex processes, effectively resolve challenges they encounter, and marshal the resources of their teams to be deployed for the most good.
None of these characteristics on their own make for a good leader. The best athletic directors possess a combination of some, if not all, of these characteristics.
They are able to be both creative and demanding at the same time. They can manage effectively while also expressing empathy for their coaches. They can provide vision while serving their programs at the same time.
It's important to understand that leadership isn't about having a particular position, title or personal attributes. Just because you're an athletics administrator doesn't mean you're a leader. Having the AD office doesn't mean you're good at leadership. Having a charismatic personality doesn't make you a leader.
Kevin Kruse best selling author and Forbes Leadership columnist puts it this way:
"Leadership is a process of social influence, which maximizes the efforts of others, towards the achievement of a goal."
The good news is that leadership is NOT something you're born with. Rather, it's something you learn over time through practice and failure. And you can become a better leader than you currently are.
If you're not an effective leader now, you can grow and become an effective leader. You can learn the skills and techniques necessary to have the social influence Kruse talks about.
That's what this book is all about. You'll discover 12 principles of highly effective athletic administrators.
By implementing these principles in your own life, you can become a powerful, passionate, inspirational leader. You can help coached and student-athletes become the best version of themselves and achieve great things. You can lead them to accomplish your vision.
Ready to dive into the AD DNA gene pool?
Let's get started.
---
About Scott Garvis
Scott Garvis has been a leader and innovator in intercollegiate and interscholastic athletics development and fundraising for more than 25 years – as an athletics director, coach, association board member, adviser and editorial contributor.
Scott has a record of excellence as Athletics Director, Director of Activities and Assistant Principal, having led the athletics departments at six high schools or school districts in three states.  He has achieved unparalleled success at all levels of high school athletics: large public school districts, a small public high school, a private school, and with state and national athletics administrator associations.