ADs of Influence: Virginia
Jeryl Fischtziur, the Athletic Director at Kenner Discovery Health Sciences Academy, has been honored with the prestigious Bound Athletic Director of Influence Award.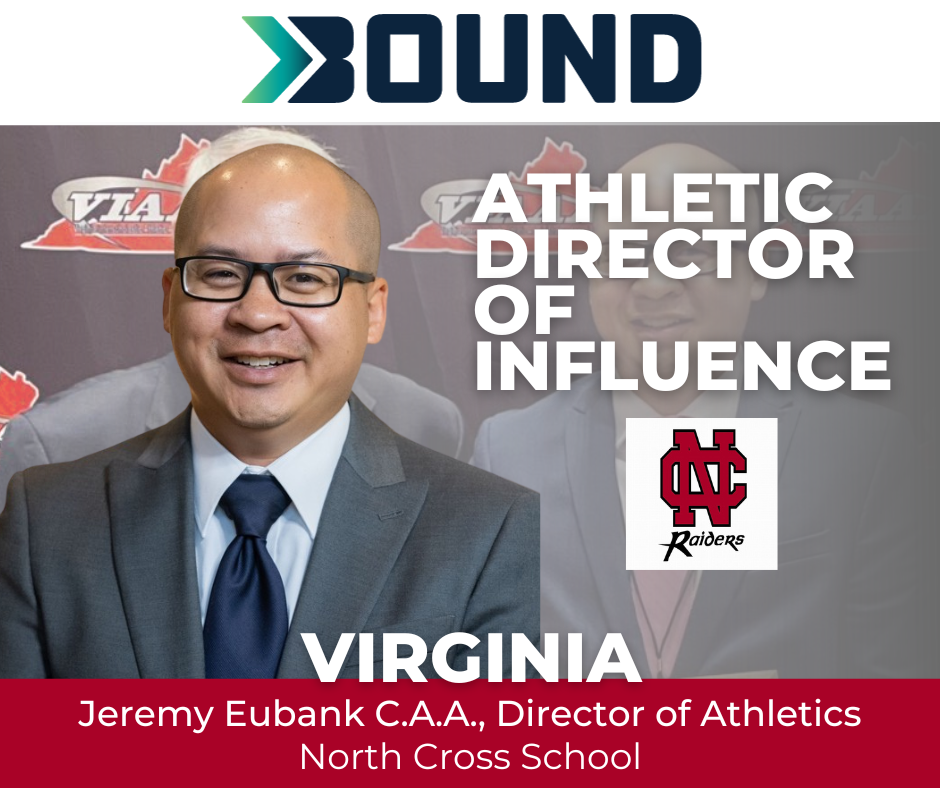 Jeremy Eubank is one the most impactful athletic leaders in Virginia and across the nation.
Eubank, currently in his first year at North Cross School, stood out among nominations from across the state to be honored with this well-deserved award. His journey in the realm of athletic administration has been nothing short of remarkable, and his colleagues have recognized his unwavering commitment.Prior to his tenure at North Cross School, Jeremy Eubank has been a catalyst for positive change at Chatham Hall, not only within the school community but also in the wider athletic conference and state athletic association.
In his two years at Chatham Hall, Eubank oversaw the addition of three new interscholastic teams: diving, golf, and track and field. His leadership also resulted in the creation of a girls' golf state invitational, a significant milestone in promoting gender equality in high school sports.
In Praise of Jeremy:
Jeremy Eubank's receipt of the Bound Athletic Director of Influence Award is a recognition of his commitment to enhancing high school athletics in Virginia.
About Bound ADs of Influence
This award is specifically designed to recognize and honor athletic directors who demonstrate exceptional leadership and positively impact the lives of those they lead, including students and coaches. The award recognizes those individuals who display creativity, innovation, and a passion for using technology to drive positive change within their athletic programs.
Athletic directors who are nominated for this award must demonstrate a commitment to excellence and an unwavering dedication to their teams. They must be able to inspire their athletes and coaches to achieve their best, while also fostering an environment of inclusivity, sportsmanship, and fair play.
The Bound Athletic Director of Influence recognition award is a highly respected accolade in the field of athletics, and it serves as a symbol of the recipient's dedication to the growth and development of their program, their athletes, and their community. It is an honor to receive this award, and we are proud to recognize those who have made a significant impact on the lives of others through their work as an athletic director.
Do you know an Athletic Director of Influence who deserves recognition? Email scott.garvis@gobound.com TODAY!