ADs of Influence: North Dakota
Todd Olson is one the most impactful athletic leaders in North Dakota and across the nation.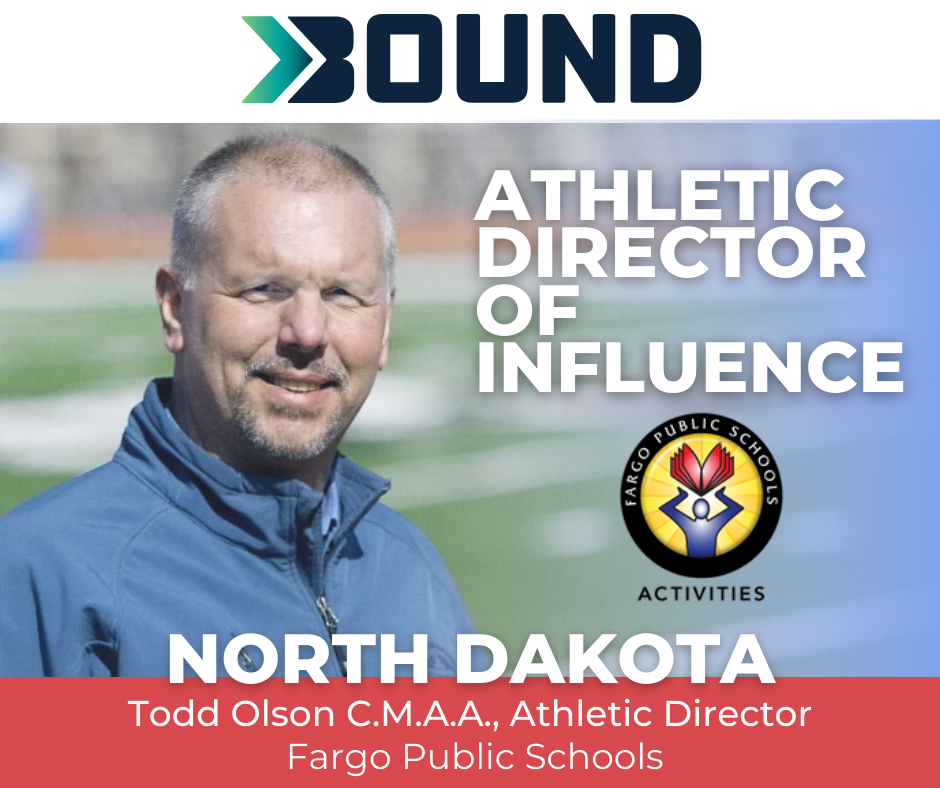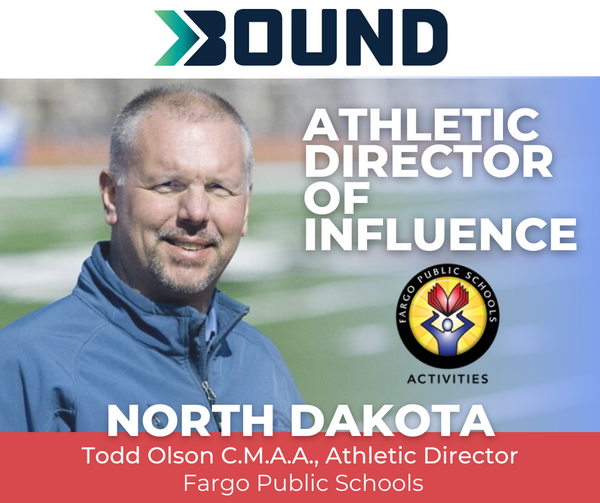 Todd Olson, CMAA, is one the most impactful athletic leaders in North Dakota and across the nation.
In 2005, Todd was named the Athletic Director for the Grand Forks Public Schools. He served 7 years in Grand Forks as the Athletic Director being named the East Region AD of the Year in 2007 and 2010 and the Class A AD of the Year in 2010. In 2012, Todd was named the Director of Student Activities for the Fargo Public Schools..In 2019, Todd was named the National Athletic Director of the Year by the National High School Athletic Coaches Association.
At the state level, Todd has served as the President of the North Dakota High School Coaches Association, President of the NDIAAA and President of the NDHSAA Board of Directors.
Nationally, Todd has just completed his five-year term on the NIAAA Board of Directors having served as NIAAA President in 2019. He served as the Section 5 Representative to the Board of Directors for three years, as well as, being a member of the national Certification, NADC Conference Advisory and Coach Education Committees.
Todd Says:
"You're in a support role in this job, so it's a little bit awkward when you win an award. I try to keep things about the kids & coaches. It was surprising."
About Bound ADs of Influence
This award is specifically designed to recognize and honor athletic directors who demonstrate exceptional leadership and positively impact the lives of those they lead, including students and coaches. The award recognizes those individuals who display creativity, innovation, and a passion for using technology to drive positive change within their athletic programs.
Athletic directors who are nominated for this award must demonstrate a commitment to excellence and an unwavering dedication to their teams. They must be able to inspire their athletes and coaches to achieve their best, while also fostering an environment of inclusivity, sportsmanship, and fair play.
The Bound Athletic Director of Influence recognition award is a highly respected accolade in the field of athletics, and it serves as a symbol of the recipient's dedication to the growth and development of their program, their athletes, and their community. It is an honor to receive this award, and we are proud to recognize those who have made a significant impact on the lives of others through their work as an athletic director.
Do you know an Athletic Director of Influence who deserves recognition? Email scott.garvis@gobound.com TODAY!