ADs of Influence: New Mexico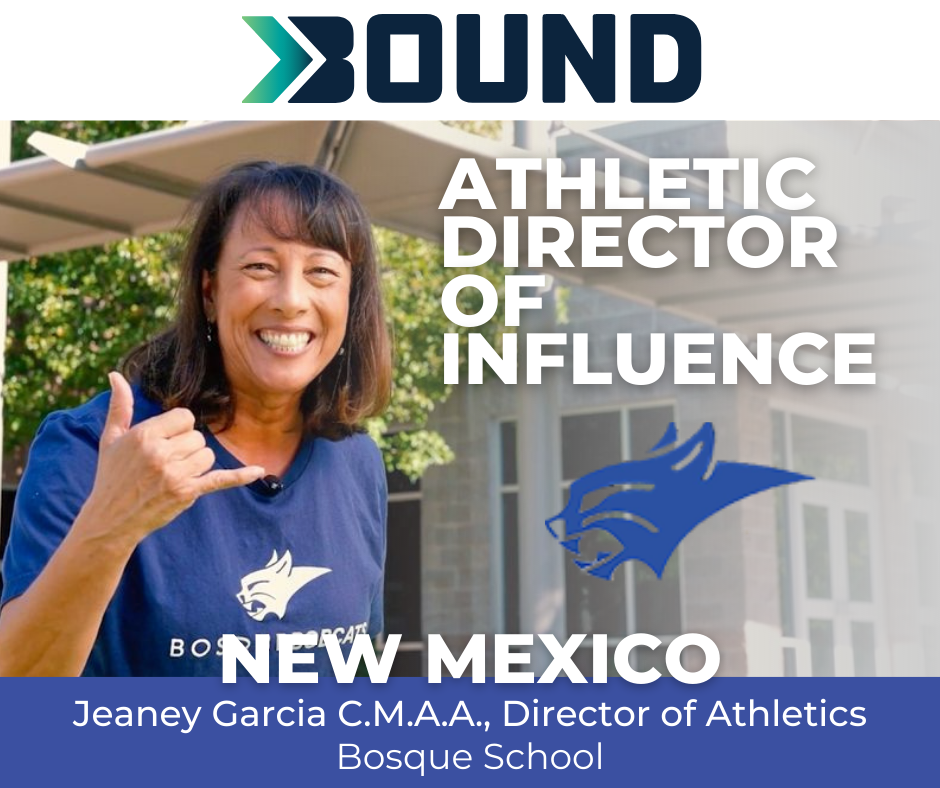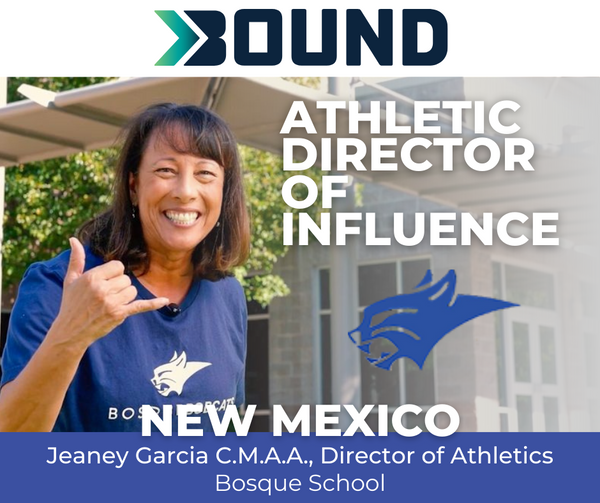 Jeaney Garcia is one the most impactful athletic leaders in New Mexico and across the nation.
Garcia was selected to be the first female Athletic Director (AD) and only the 3rd AD at Bosque School. Her professional career includes being an AD for 20 years, most recently in Honolulu at Punahou School. She is a certified Positive Performance Coach, primarily for Positive Coaching Alliance, leading workshops around the world on a variety of topics, including effective performance in inclusive environments.
She has been honored as "Coach of the Year" for numerous schools & organizations, including Sport for Understanding (SFU) based in Washington, D.C., where she was the National SFU coach for cross-country, basketball, and track & field.
The Bound Athletic Director of Impact Award is a prestigious recognition, and Garcia's receipt of this award is a testament to her exceptional leadership and dedication to education-based athletics. The Bosque School is fortunate to have such a dedicated Athletic Director.
Jeaney Says:
"The essence of coaching is raising awareness and responsibility to unlock potential and maximize performance. When a coach can get kids to believe in themselves in a positive atmosphere, everyone thrives."
About Bound ADs of Influence
This award is specifically designed to recognize and honor athletic directors who demonstrate exceptional leadership and positively impact the lives of those they lead, including students and coaches. The award recognizes those individuals who display creativity, innovation, and a passion for using technology to drive positive change within their athletic programs.
Athletic directors who are nominated for this award must demonstrate a commitment to excellence and an unwavering dedication to their teams. They must be able to inspire their athletes and coaches to achieve their best, while also fostering an environment of inclusivity, sportsmanship, and fair play.
The Bound Athletic Director of Influence recognition award is a highly respected accolade in the field of athletics, and it serves as a symbol of the recipient's dedication to the growth and development of their program, their athletes, and their community. It is an honor to receive this award, and we are proud to recognize those who have made a significant impact on the lives of others through their work as an athletic director.
Do you know an Athletic Director of Influence who deserves recognition? Email scott.garvis@gobound.com TODAY!