ADs of Influence: Nebraska
Steve Throne, CMAA, is one the most impactful athletic leaders in Nebraska and across the nation.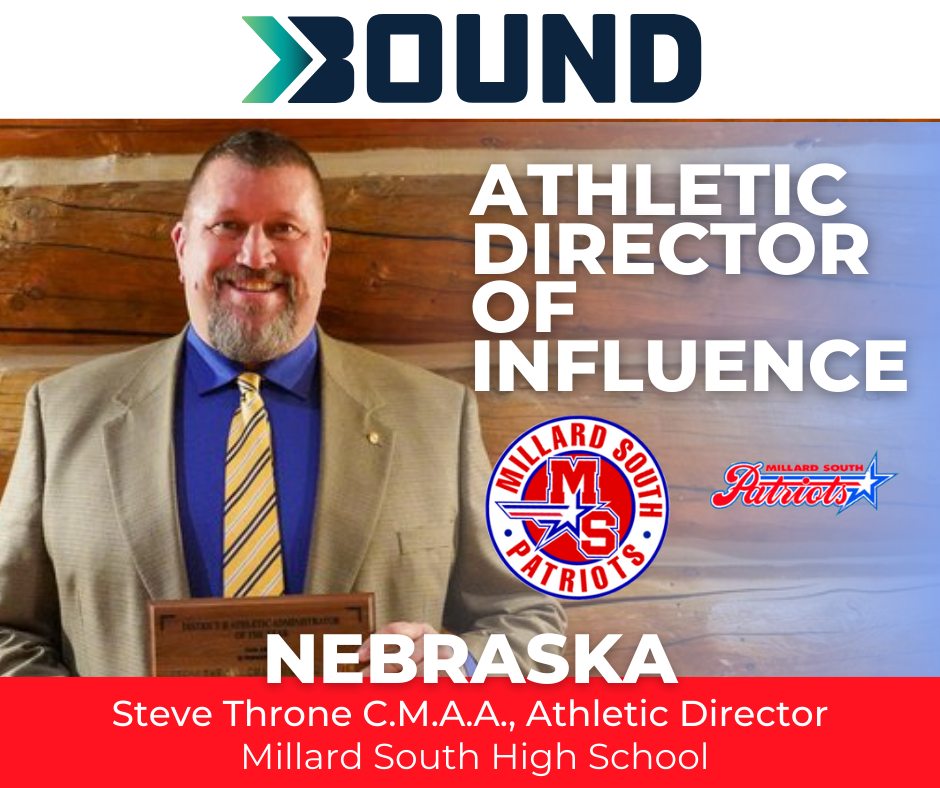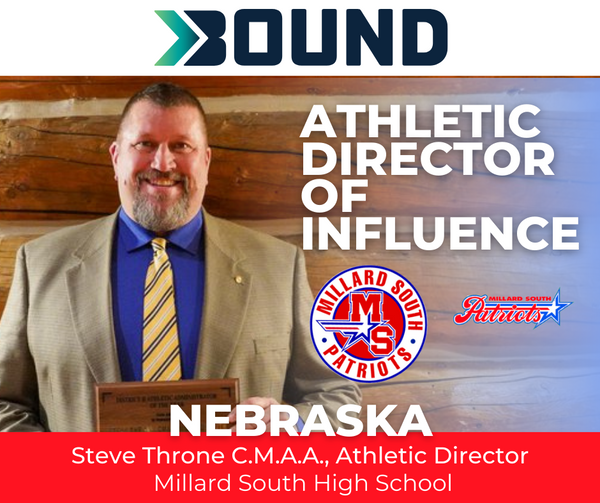 Steve Throne, CMAA, is one the most impactful athletic leaders in Nebraska and across the nation.
Steve Throne, the Athletic Director of Millard South High School, has been selected for the prestigious Bound Influential Athletic Director Award. This award recognizes ADs who make a positive impact in their school, community, state, and nation through servant leadership. His dedication to their success both on and off the field has earned him the respect and admiration of his colleagues, coaches, & students.
Under Throne's leadership, Millard South's athletic program has thrived. The school has won numerous state championships in multiple sports.But more than that, Throne has created a culture of sportsmanship, teamwork, and dedication that extends beyond the playing field.
Throne's selection for this award serves as a reminder of the power of servant leadership and the impact that one person can have on a community. His legacy will continue to inspire and influence generations of student-athletes and coaches to come. Throne currently serves on the NIAAA Executive Board.
Steve Says:
"Multipliers invoke each person's unique intelligence & create an atmosphere of genius-innovation, productive effort, & collective intelligence." ~ Liz Wiseman
About Bound ADs of Influence
This award is specifically designed to recognize and honor athletic directors who demonstrate exceptional leadership and positively impact the lives of those they lead, including students and coaches. The award recognizes those individuals who display creativity, innovation, and a passion for using technology to drive positive change within their athletic programs.
Athletic directors who are nominated for this award must demonstrate a commitment to excellence and an unwavering dedication to their teams. They must be able to inspire their athletes and coaches to achieve their best, while also fostering an environment of inclusivity, sportsmanship, and fair play.
The Bound Athletic Director of Influence recognition award is a highly respected accolade in the field of athletics, and it serves as a symbol of the recipient's dedication to the growth and development of their program, their athletes, and their community. It is an honor to receive this award, and we are proud to recognize those who have made a significant impact on the lives of others through their work as an athletic director.
Do you know an Athletic Director of Influence who deserves recognition? Email scott.garvis@gobound.com TODAY!