ADs of Influence: Florida
Bound honors Florida's John Sgromolo. A product of Clay County District Schools, John is grateful to be serving the community he grew up in.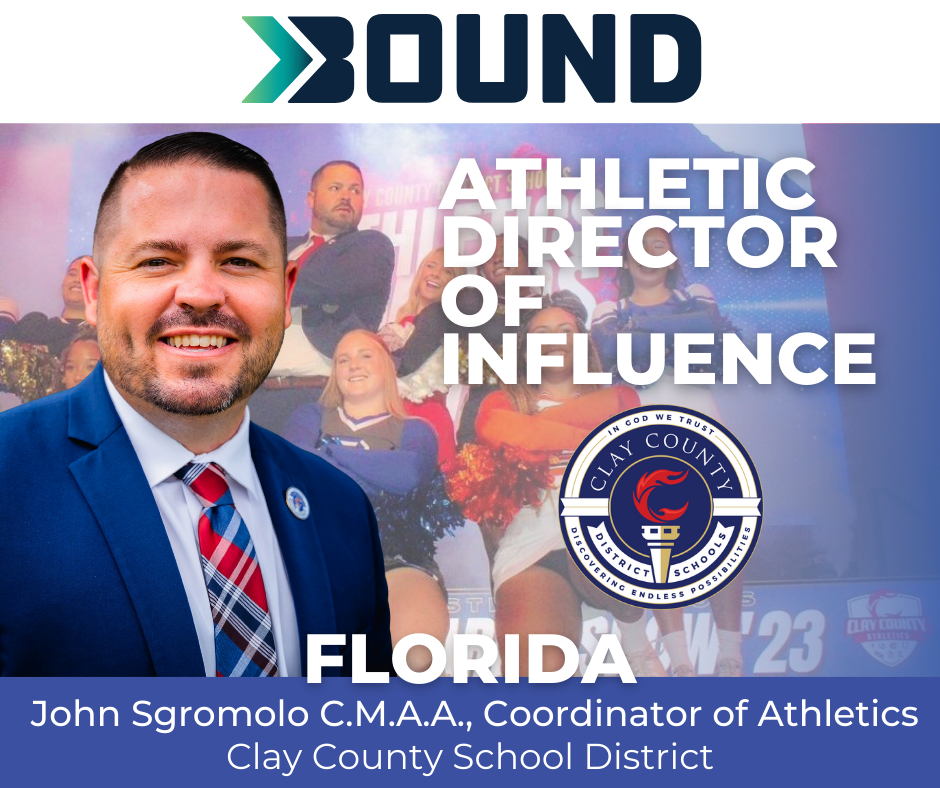 John Sgromolo is one the most impactful athletic leaders in Florida & across the nation.
A product of Clay County District Schools, John is grateful to be leading & serving the community he grew up in. John is currently in his 3rd year serving as the County Athletic Director for Clay County District Schools. John earned his bachelor's degree in business administration from Flagler College in 2012 and his Master's Degree in Athletic Leadership and Positive Coaching from Mizzou in 2021.
Under John's leadership Ridgeview High School won back-to-back Fred E. Rozelle Sportsmanship Awards in 2017 and 2018 and his department became a model of branding, marketing, and student athlete experience.
The Bound Athletic Director of Impact Award is a prestigious recognition, and Sgromolo's receipt of this award is a testament to his exceptional leadership & dedication to education-based athletics. Clay County School's is fortunate to have such a dedicated Athletic Leader.
John Says:
"Not everyone in life is going to cheer for you to succeed. But that's fine. Keep your head down, feet moving and stay true to your mission and true north! The rest is just noise."
About Bound ADs of Influence
This award is specifically designed to recognize and honor athletic directors who demonstrate exceptional leadership and positively impact the lives of those they lead, including students and coaches. The award recognizes those individuals who display creativity, innovation, and a passion for using technology to drive positive change within their athletic programs.
Athletic directors who are nominated for this award must demonstrate a commitment to excellence and an unwavering dedication to their teams. They must be able to inspire their athletes and coaches to achieve their best, while also fostering an environment of inclusivity, sportsmanship, and fair play.
The Bound Athletic Director of Influence recognition award is a highly respected accolade in the field of athletics, and it serves as a symbol of the recipient's dedication to the growth and development of their program, their athletes, and their community. It is an honor to receive this award, and we are proud to recognize those who have made a significant impact on the lives of others through their work as an athletic director.
Do you know an Athletic Director of Influence who deserves recognition? Email scott.garvis@gobound.com TODAY!